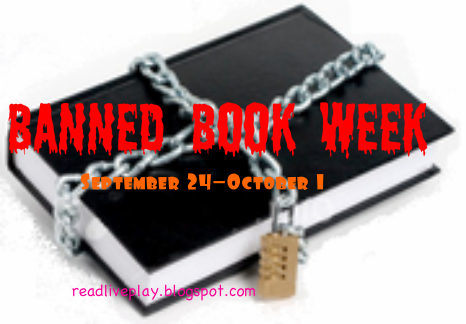 Its Banned Book Week! Yay We all get to read a fellow bloggers, librarian, and people who read ( like me ) get to read forbidden books! Just like we have the freedom of free speech we should have the freedom to read whatever we want as well. But why banned books you ask? Have you ever wondered why they were actually really banned?
This whole entire week is dedicated to all books that are banned and were ever banned on ReadLIvePlay! Has the forbidden fruit of literacy ever tasted sweeter?
Through out the week I will be posting Topics on:
Why Ban Books?
Banned Books I Have Read
Banned Books Video
and much more.......(hint)
You can check out more information on Banned Book Week on:
ALA website
http://www.ala.org/ala/issuesadvocacy/banned/bannedbooksweek/index.cfm
OR
Banned Books Week Website
http://www.bannedbooksweek.org/