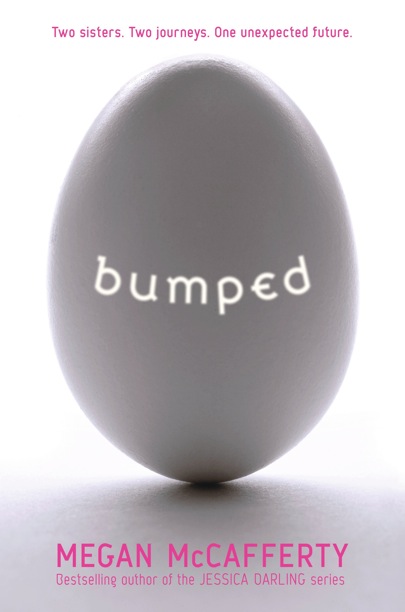 Bumped by Megan McCafferty
Published April 26th 2011 by Balzer + Bray
When a virus makes everyone over the age of eighteen infertile, would-be parents pay teen girls to conceive and give birth to their children, making teens the most prized members of society. Girls sport fake baby bumps and the school cafeteria stocks folic-acid-infused food.
Sixteen-year-old identical twins Melody and Harmony were separated at birth and have never met until the day Harmony shows up on Melody's doorstep. Up to now, the twins have followed completely opposite paths. Melody has scored an enviable conception contract with a couple called the Jaydens. While they are searching for the perfect partner for Melody to bump with, she is fighting her attraction to her best friend, Zen, who is way too short for the job.
When Melody is finally matched with the world-famous, genetically flawless Jondoe, both girls' lives are changed forever. A case of mistaken identity takes them on a journey neither could have ever imagined, one that makes Melody and Harmony realize they have so much more than just DNA in common.
Harmony has spent her whole life in Goodside, a religious community, preparing to be a wife and mother. She believes her calling is to convince Melody that pregging for profit is a sin. But Harmony has secrets of her own that she is running from.-From Amazon
Review:
If Bumped was a movie. I think the Olsen twins would be Melody & Harmony.
You know that twins are technically made from the same exact DNA? So according to genetics ( in theory) twins are supposed to be alike...their hair, their facial expressions, their body and even their personality should be the same right? No all twins are like that . They are scientifically similar but so eerily different . That is where twins Melody and Harmony come in . They are exact opposites of each other but they look the same. Melody is prime and ready to be bumped while Harmony is a religious preaching sister that believes in marriage and no bumping. Melody dresses in fashionable clothing while Harmony dresses in conservative outfits. Hey opposites attract right? Trust me when I say I know about twins since my family seems to populated by them. They are so different from each other. I can't tell them apart physically but their personalities are always different. Outside they make look the same but inside they are not.
( Hehehe don't tell them I can't tell them apart....)
When I first picked up this book I was thinking of the show Teen Mom on MTV. This show depicts the life of teenage mothers on how they got into this predicament, their hardships, and how they are trying to change for the better. It was funny to see a book that encouraged "bumping". While our society today looks down on teenage motherhood, this book encouraged it in its dystopian setting. I thought to myself this was a funny read and I chuckled to myself.
As I got further along I started to see something different . I started to really connect to the characters especially Harmony. She is naive unlike her sister and believes in a just cause. She has such a kind and forgiving spirit despite everything she has faced. It was kind of refreshing to see someone so different. Harmony feels the lure to protect everything that she loved ,has loved, or will ever love. She would have to be favorite character in this whole book.
I loved the characters, the setting, and the story. This is a truly original storytelling and one of the best reads I have had in a while now. I am so excited for the next book to continue on Harmony and Melody's adventures.

I rate this Bumped by Megan McCafferty: